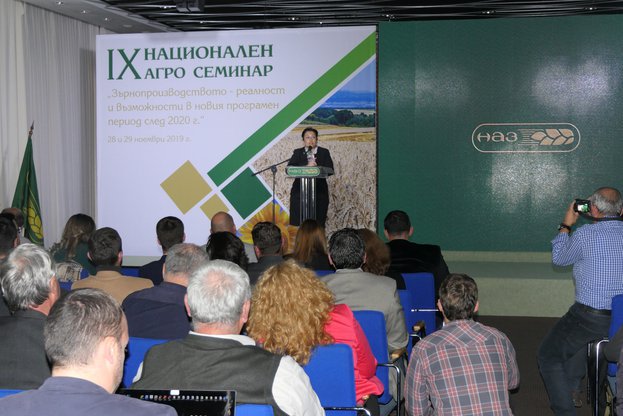 Bulgaria is a front-runner in the export of cereals and oilseeds for 2018. This was announced by the Minister of Agriculture, Food and Forestry, Desislava Taneva, at the official opening of the Ninth National Agro-Seminar of the National Association of Grain Producers (NAGP), which was held in the city of Plovdiv. She added that last year's cereal exports amounted to 3 billion in total. BGN 141 thousand, which is 37.3% of the total export of agricultural goods from Bulgaria. Minister Taneva pointed out that our country was ranked 11th in the world in export of common wheat, with an export of 4.17 million tonnes in 2018. "We are 11th in export of maize as well, with export of 1.41 million tonnes. Our country ranks second in the world in export of black oilseed sunflower with an export of 779 thousand tons. We rank eighth in rapeseed exports, "she added.
Desislava Taneva announced that in 2018 over 12 million tonnes of grain were harvested - wheat, barley, maize, rapeseed and sunflower. Out of the total amount produced, 6 million and 800 thousand tons were exported. The expected wheat crop for 2019 is around 6 million tonnes. The Minister of Agriculture stressed that Bulgaria has a good, competitive and viable sector in the face of grain production. "When there are working sectors, an example should be given of how entrepreneurs have reached levels of competitiveness that equate them to global powers," she stressed. According to her, without the support of the Rural Development Program (RDP) 2014-2020 under the current programming period, the sector is developing successfully.
"The challenge of our time is climate change and environmental impacts. The Grain Sector is one that is environmentally-friendly to soil resources and biodiversity. Whatever tools we give to motivate green practices, if they do not affect the sector, we will not get the desired effect, "said Minister Taneva. According to her, the most innovative practices that reach eco-goals should be identified and thus become support measures for the coverage of the new CAP and its landscaping.
With regard to anti-hail protection, the Minister said that financial solidarity between farmers and the state is needed in order to have risk prevention and market benefits in adverse climatic conditions. "This will only be possible if there is a beneficiary and a financial contribution from all farmers," the minister added. She recalled that some EUR 36 million earmarked for the risk management measure was transferred under the budget measures to be opened under the RDP in the first 6 months of 2020. "For the next programming period under this measure, the budget will be twice as big, amounting to EUR 72 million, "Desislava Taneva explained.
The Minister of Agriculture said that we were taking leaf from Hungary to propose another legal form for national prevention of climate events. The aim is for farmers to receive benefits under much better conditions. "This model also works in other Member States. Everyone is working in this direction. In Turkey, they have obliged every farmer to insure himself in order for the system to be co-financed, "explained Minister Taneva.
Share in: