Prof. Dr. Hristo Bozukov
Minister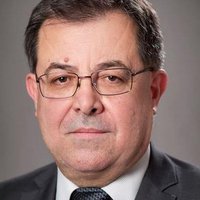 Professor Dr. Hristo Bozukov was born on January 14, 1960.
He graduated in 1985 from the Agricultural University of Plovdiv qualified as "Engineer agronomist for the protection of plants and soil" and specialized in "Plant protection technologies for arable crops."
In 1985 was a trainee agronomist at the Institute of Tobacco and Tobacco Products - Plovdiv and after winning a competition since 1986 he has been appointed as a Research Fellow III degree in Plant Protection.
In 1989 he became Research Fellow II degree and in 1993 he became Research Fellow I degree.
In 1999, he defended a scientific and educational degree "Doctor of Phytopathology" and in 2003 he was awarded the Higher academic title "Senior Research Fellow ІІ degree" (Associate Professor) in a scientific specialty "Plant Protection".
Since November 19, 2014 he has been awarded the academic position "professor".
Since 2002, he has held different positions such as: Head of "Agro technology and plant protection products", Chief Secretary, Chairman of the Scientific Council and Director of the Institute of Tobacco and Tobacco Products-Plovdiv.
From 2013 to 2015, he was Chairman of the Agricultural Academy in Sofia, Chairman of the Board of the Federation of Scientific Technical Union of Specialists in Agriculture - Plovdiv, Board member of the Federation of Scientific Technical Union of Specialists in Agriculture-Sofia and member of the Union of Scientists in Bulgaria.
Since January 2018 he has been a member of Council on Economic Development and Social Policy under the President of the Republic of Bulgaria. He was Minister of Agriculture and Food in the caretaker government of Prof. Ognian Gerdjikov.
He is a holder of Gold Badge of Federation of Scientific and Technical Unions, Union of Inventors in Bulgaria Diploma, Prof. Asen Zlatarov Gold Medal for Creative Contribution and High Results in the Field of Science and Technology, Honorary Badge For Contribution to Applied Agrarian Science in 2016 of the Bulgarian Plant Protection Association, Medal For Special Contribution to the Development of Agrarian Science of the Russian Academy of Agricultural Sciences and a number of other awards and prizes.